STOMP: Study of Tecovirimat for Mpox
STOMP: Study of Tecovirimat for Mpox
Guides for patients and providers
For Providers:
For Patients:
STI Clinical Update Webinar: California Mpox Update for Healthcare Providers – October 2023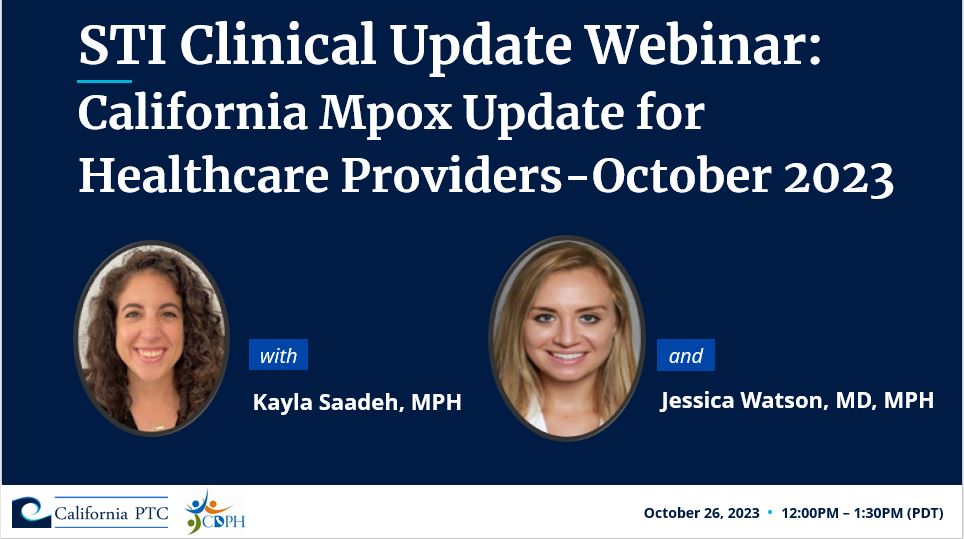 Thursday, October 26, 2023
12:00 PM – 1:30 PM (PDT)
Registration deadline, October 25th by 3:00 PM (PDT).
Webinar recording available 2 weeks after the webinar. Check back here. Please note: CME not available for viewing the webinar recording.
The California Department of Public Health (CDPH) continues to see statewide Mpox activity, including a large cluster in Los Angeles County. This webinar, presented by the California Prevention Training Center (CAPTC), features CDPH's Mpox Clinical and Epidemiology teams, who will provide a clinical update and epidemiological overview of Mpox, and discuss new research findings relevant to primary care and other healthcare providers, including data on transmission, vaccine equity, and vaccine effectiveness. A question-and-answer session will follow.
Presented by:
Kayla Saadeh, MPH
Mpox Epidemiology Unit Lead
California Department of Public Health
Jessica Watson, MD, MPH
Mpox Public Health Medical Officer and Acting Clinical Lead
California Department of Public Health
Learning Objectives
Identify the clinical and epidemiological factors leading to Mpox infection, transmission, and severity as well as treatment options.
Apply the latest information and research on Mpox, including transmission characteristics, vaccine equity, and vaccine effectiveness, to your clinical practice to ensure patients are appropriately vaccinated, diagnosed, tested, and treated for Mpox.
STI Clinical Update Webinar: #EverythingChlamydia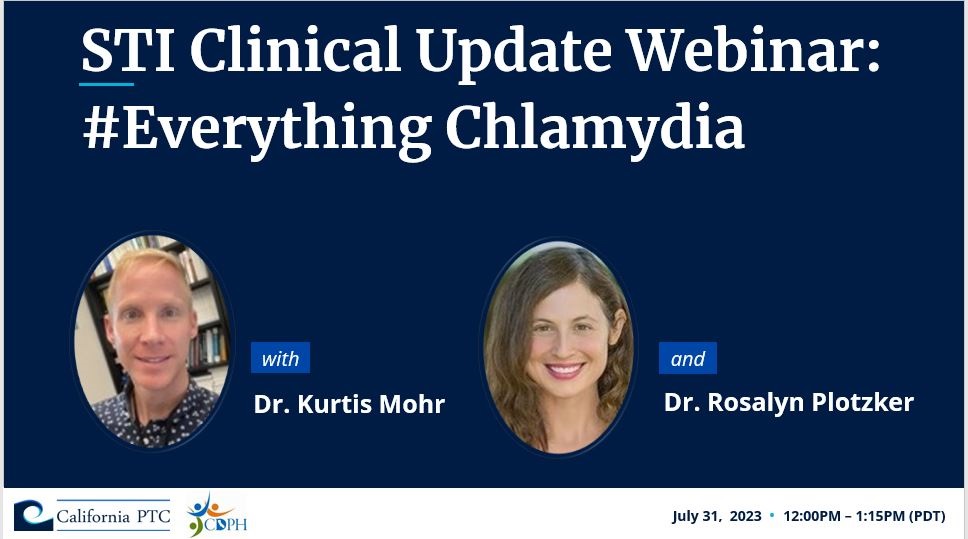 Monday, July 31, 2023 from 12:00PM-1:15PM (PDT)
Presented by Drs. Kurtis Mohr and Rosalyn Plotzker
Registration for CME purposes closes three days before the webinar. After that time, you will be able to join the webinar, but you will not be able to get CME.
Chlamydia is an STI that can manage to damage our body in oh so many places. Watch this webinar to learn Everything about this "cloaked" assailant: from stats & numbers, to pathophys', fevers, chills, and burning whiz! Plus screening, treatment & prevention, of course!
Learning Objectives
Recognize the different sequelae of sexually transmitted C. trachomatis and their recommended treatments
Know the recommended screening strategies C. trachomatis
Meet our Experts
Kurtis Mohr, MD, AAHIVM
Dr. Mohr is a Family Medicine trained physician and recent 2022 graduate from Kaiser Permanente's HIV Fellowship Program. He joined the California Department of Public Health in November 2022 as a Public Health Medical Officer in the STD Control Branch. His work focuses on preventative measures such as DoxyPEP and Hepatitis B & C screening outreach, along with Disseminated Gonococcal Infection (DGI) investigations.
Rosalyn Plotzker, MD, MPH
Dr. Plotzker is an Assistant Professor in the UCSF Department of Epidemiology and Biostatistics. She completed a Fellowship in Sexually Transmitted Diseases with the CAPTC and CDPH. She serves as a Public Health Medical Officer in the STD Control Branch at CDPH.
STI Expert Hour Webinar: Results of the ANCHOR study and their implications for anal cancer prevention guidelines
Recognize the groups at highest risk of anal cancer
Explain the main findings of the ANCHOR Study
Explain current approaches to prevention of anal cancer
STI Expert Hour Webinar on Doxycycline Post-Exposure Prophylaxis: Promise, Opportunities, and Considerations for Implementation
Friday, April 28, 2023, 12:45PM-2:00PM (PDT)
Learn about doxycycline post-exposure prophylaxis (doxyPEP), the newest innovation in the world of biomedical approaches to preventing sexually transmitted infections.Presentation by Stephanie Cohen, MD, MPH, Medical Director, San Francisco City Clinic & Director, STI Prevention and Control Section, San Francisco Department of Public Health
1.25 CME units at no cost.
Learning Objectives
Summarize data from recent studies exploring the use of doxyPEP to prevent bacterial STIs
Explore potential implications of and strategies for doxyPEP implementation in clinical settings
Please note: CME units not available for viewing the recording of the webinar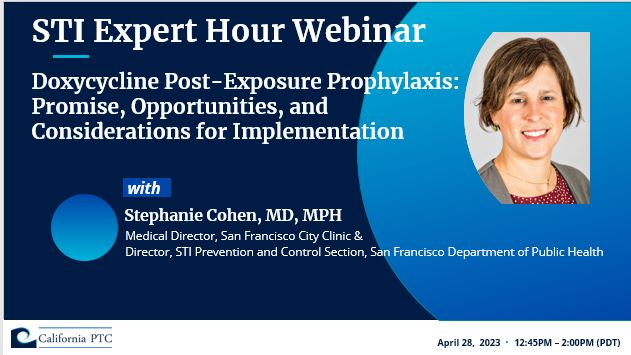 Examination and Interpretation of Wet Preparations of Vaginal Specimens
Intended for Practicing Clinicians with Prior Wet Mount Experience
The course begins with a fifteen minute didactic presentation on applicable issues of CLIA regulation, quality control, and interpretation vaginal wet mount (VWM) for common causes of vaginitis. This will be followed by a fifteen minute video that details through the microscope footage of findings on VWM including trichomads, yeast and clue cells associated with BV. The remaining two and one-half hours consists of experiential training, including laboratory practicum on examination of saline and KOH vaginal wet mounts (VWM). During this portion of the training, participants will have an opportunity for group discussion, explanation, and demonstration, as well as practice and return demonstration.
Learning Objectives
Practice proper preparation of saline and KOH specimens of vaginal fluid to increase viability of specimens for microscopic evaluation.
Perform proper use of the light microscope to improve examination of saline and KOH wet mount specimens.
Assess wet mount microscopy specimens to appropriately interpret findings that support diagnosis of vulvovaginal candidiasis, bacterial vaginosis or trichomoniasis
March 30, 2023 from 2:00PM – 5:00PM (PDT)
UCSF Parnassus Heights Campus: San Francisco, CA
Instructors: Sharon Adler, MD, MPH and Lee Fagen, NP
Syphilis Treatment Intervals in Non-Pregnant Patients: A Clinical Resource for Providers
What are appropriate treatment intervals for late latent syphilis or syphilis of unknown duration in non-pregnant people?
Prepared by the STD Control Branch, California Department of Public Health and California Prevention Training Center. Revised February 2023.
STI Clinical Update Webinar-Back to Basics: Fundamentals of STI/HIV Prevention
Tuesday, March 28, 2023 from 12:00-1:15PM (PDT)
A review of screening, treatment, and vaccination tools to prevent STIs and HIV.
Presented by Drs. Caterina Liu and Kurtis Mohr
Learning Objectives:
Review screening and treatment guidance for STIs and HIV.
Integrate biochemical prevention tools for STIs and HIV into clinical practice.
Summarize recommendations for Hepatitis A, Hepatitis B, HPV, meningitis, and mpox vaccination.
STI Expert Hour Webinar: Medication Conundrums in STI Management
Thursday, February 16, 2023
12:00PM-1:15PM (PST)
Presented Katherine Yang, PharmD, MPH
Learning Objectives:
Describe basic principles of antibiotic pharmacokinetics and pharmacodynamics and their relevance to drug dosing and administration
Develop a plan for common STI medication issues including dosing/administration, side effect management, and allergy management
Identify drug information resources related to STI/HIV management, reproductive health, breastfeeding, and drug-drug interactions