Our Funding Partners
We are funded by the following partners to deliver training, technical assistance and other capacity building services in HIV, STIs, sexual and reproductive health and other communicable health conditions.
Funding Partners
The CDC National Center for HIV, Viral Hepatitis, STD, and TB Prevention (NCHHSTP) maximizes public health and safety nationally and internationally through the elimination, prevention, and control of disease, disability, and death caused by Human Immunodeficiency Virus Infection (HIV), non-HIV retroviruses, viral hepatitis, other sexually transmitted diseases (STDs), and tuberculosis (TB).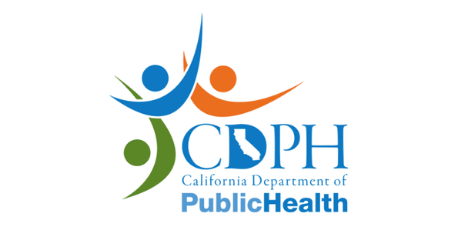 The California Department of Public Health (CDPH) works to protect the public's health in the Golden State and helps shape positive health outcomes for individuals, families and communities.
The CAPTC works collaboratively with CDPH Office of AIDS/STD Control Branch to strengthen the Disease Intervention Specialist (DIS) and HIV/STI prevention workforce capacity. The CAPTC develops and delivers foundational DIS trainings for local health jurisdictions (LHJ), staff, and supervisors working with key populations affected by HIV/STIs each year. CAPTC additionally helps address emerging topics on prevention.
Cicatelli Associates, Inc. (CAI) is a diverse, mission-driven nonprofit organization dedicated to improving the quality of health care and social services delivered to marginalized populations worldwide.
The CAPTC supports CAI with the 19-1904 cooperative agreement with the CDC by supplying training staff to deliver CDC-approved, evidence-based intervention and high-impact prevention strategy trainings to nationally-funded health departments and community-based organizations. These blended learning trainings help ensure the national HIV prevention workforce has the competencies to progress to ending the epidemic.
The Office of Family Planning (OFP) is charged by the California Legislature "to make available to citizens of the State who are of childbearing age comprehensive medical knowledge, assistance, and services relating to the planning of families". The purpose of family planning is to provide women and men a means by which they decide for themselves the number, timing, and spacing of their children.
The RAND Corporation is a research organization that develops solutions to public policy challenges to help make communities throughout the world safer and more secure, healthier and more prosperous. RAND is nonprofit, nonpartisan, and committed to the public interest.
The Disease Prevention and Control Branch (DPC) is part of the Population Health Division of the San Francisco Department of Public Health. DPC protects the health of San Francisco residents and visitors through public health clinics, our Public Health Laboratory, and our chronic disease prevention physician team. DPC also houses the Disease Intervention Specialists in SFDPH, who work directly with the public to improve health for individuals and for entire communities by ensuring best treatment and helping prevent the spread of many types of communicable diseases.
The UCSF Pandemic Initiative for Equity and Action group (UPIEA) is a multidisciplinary group of health researchers and practitioners from across the UCSF community who are committed to addressing and redressing inequalities in health locally and globally through pandemic response.