S4 E1: Narcan Queen Kochina Rude on Drag and Harm Reduction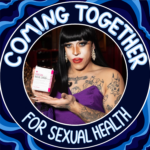 CW: Opioid Overdose, Molestation 
Welcome to our mini-series on Harm Reduction! Host Tammy Kremer sits down with drag queen Kochina Rude to share how she uses her performances to educate the LGBTQ+ community about Naloxone administration, safer partying, and overdose prevention. At her show "Princess," cohosted with Lisa Frankenstien, Kochina Rude has provided training and 2,000+ doses of Narcan in San Francisco's South of Market neighborhood since 2021. 
Download the transcript of this episode.
Follow Kochina Rude on Instagram, Twitter, and TikTok.
Resources:
National Harm Reduction Coalition
Remedy Alliance For The People
CAPTC-Related Training and Resources:
Unconditional Positive Regard–Intersectionality of Harm Reduction & Spirituality
Syringe Service Program Community of Practice
Turn on notifications to never miss an episode of Coming Together for Sexual Health.
Follow Coming Together for Sexual Health on Instagram and Twitter.
Kochina Rude is a Bay Area-based drag queen, harm reduction advocate, and public health worker. She co-hosts the drag show "Princess" with Lisa Frankenstein at SF Oasis, where she established a naloxone distribution and overdose prevention education project for LGBT+ nightlife.