S3 Ep4 PrEP Supports: Reflections on the Campaign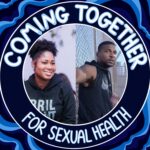 In this episode of Coming Together for Sexual Health, we speak with Terrance Wilder and Nikole Trainor, two people who were intimately involved in PrEP Supports, a campaign launched by the San Francisco Department of Public Health in 2018. PrEP Supports was a community-engaged campaign that specifically focused on PrEP access and education in Black communities in San Francisco.
Download the transcript of this episode.
Resources from Terrance, Nikole, and the CAPTC:
Guest Bios:
Currently based out of Stockton, California (but Oakland born and raised), Terrance Wilder is an Equity Training Coordinator at the San Francisco AIDS Foundation where he's worked for 5 years. In addition to putting in work at SFAF, Terrance is an avid basketball player, hiker, and comedy fan.
Nikole Trainor currently works full-time for the San Francisco Department of Public Health (SFDPH) as the Getting to Zero Program Coordinator/Contract Manager, while also teaching part-time at SJSU in the School of Public Health. Nikole has worked for SFDPH in the STD Prevention and Control Branch for the past 13 years. She is responsible for spearheading several innovative initiatives which included the launch of the San Francisco PrEP Supports Campaign (2019), launch of Have Good Sex Campaign (2020), implementation of the first Pharmacist Delivered One-Stop PrEP Program at Mission Wellness Pharmacy in San Francisco CA (2018-present), and the implementation of the first official lab-based HIV/STI/HCV home-testing program (2021). For the past 15 years, Nikole has been dedicated to improving quality of life for all communities of color and speaking boldly about inequities that negatively impact the communities in which she serves.