S3 Ep3: Monkeypox, What's The Hype?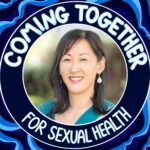 This special episode features Dr. Ina Park discussing monkeypox: what it is, what's the hype, and how worried (hint: not very) she is about the spread. Note that we recorded on May 31, 2022. Check out the CDC's website for up-to-date information about monkeypox.
Follow Ina on Instagram and Twitter @inaparkmd for timely (and often entertaining) updates on sexual health. Check out Dr. Park's book, Strange Bedfellows: Adventures in the Science, History, and Surprising Secrets of STDs.
Dr. Ina Park, MS, is the medical director at the California Prevention Training Center. She is a professor in the Department of Family and Community Medicine at the University of California San Francisco and a medical consultant in the Division of STD Prevention at the Centers for Disease Control and Prevention.