UCSF and UCLA train an unprecedented 10,000+ contact tracers to mitigate COVID-19 in California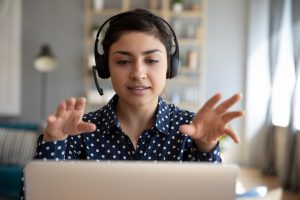 The California Prevention Training Center is playing a vital role in training new contact tracers and case investigators to meet the goals of Governor Newsom's California Connect Contact Tracing program and mitigate the spread of COVID-19.
Under the initiative, the CAPTC, a part of the University of California, San Francisco (UCSF) Bixby Center for Global Reproductive Health, is collaborating with several other UCSF programs including the Institute for Global Health Science,  Curry International Tuberculosis  Center, and the Center for Primary Care Excellence, in addition to partners at the University of California, Los Angeles (UCLA) to train more than 10,000 contact tracers and case investigators in California.
As part of the California Connect program, contact tracers, experienced an novice, will call individuals who have tested positive for COVID-19 and work with them, and people they have been in close contact with, to ensure they have access to confidential testing, medical care and other services to prevent the spread of the virus. To accomplish this, CAPTC and their partners have developed California Virtual Training Academy, a 20-hour virtual program to train new contact tracers. To date, they have delivered skills-based virtual training to more than 5,000 individuals.
State and local government employees – from tax assessors to financial analysts, paralegals to librarians – have been recruited to take part in this training to mitigate the novel coronavirus. As of June 29, 2020, more than 210,000 cases of COVID-19 have been reported in California.
CAPTC Director, Alice Gandelman, leads these intensive efforts on behalf of CAPTC supported by her team of experienced trainers who have been training case investigators and contact tracers for more than two decades.
"This has stretched our staff and program in numerous ways but we have gained incredible capacity to offer virtual skills-based learning for contact tracers which will benefit California residents and help prevent further COVID infections and keep us all healthy and safe," Gandelman says of the effort.
The CAPTC has also received supplemental funds from the Centers for Disease Control and Prevention (CDC) to develop and expand its training nationally through their Disease Intervention Training Center. The CAPTC will work closely with the CDC and four regional disease intervention training centers to build capacity for case investigation and contact tracing nationwide.
Skills-based content is delivered virtually, allowing learners to practice contact tracing and case investigation interviewing skills and receive support from those experienced in the field. The CAPTC will also host a post-training learning collaborative for contact tracers who have completed training to ensure their continued success.
For more information about these programs, please email the CAPTC at captc@ucsf.edu.  Read more about the California Connect program here.